Imaginary Magnitude Polish WL 1974
Jump to navigation
Jump to search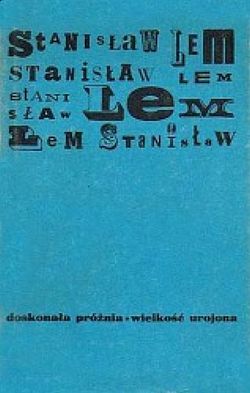 title: Doskonała Próżnia.Wielkość urojona.
original (Polish) title: Wielkość urojona
English title: Imaginary Magnitude
language: Polish
country: Poland
place: Cracow
form: book
publisher: Wydawnictwo Literackie
publication date: 1974
edition: second

cover: hard
cover by: Barbara Konarzewska
pages: 336

ISBN:
print-run: 20283
series: WL 1 Dzieła Wybrane


Content: [Cz. 1.] Doskonała próżnia: Lem S. "Doskonała próżnia" [autorecenzja].
"Les Robinsonades" par Marcel Coscat (Ed. du Seuil - Paris).
Patric Hannahan "Gigamesh" (Transworld Publishers - London).
Simon Merill "Sexplosion" (Walker and Company - New York).
Alfred Zellermann "Gruppenführer Louis XVI" (Surkampf Verlag).
"Rien du tout, ou la conséquence" par Solange Marriot (Ed. du Midi).
Joachim Fersengeld "Perycalypsis" (Edition de minuit - Paris).
Gian Carlo Spallanzani "Idiota" (Mondadori Editore).
"Do yourself a book".
Kuno Mlatje "Odys z Itaki".
Raymond Seurat "Toi" (Ed. Denoel).
Alistar Waynewright "Being Inc." (American Library).
Wilhelm Klopper "Die kultur als Fehler" (Universitas Verlag).
Cezar Kouska "De impossibilitate Vitae"; "De impossibilitate prognoscendi" (2 tomy), (Praha, Statni Nakladatalstvi N. Lit.).
Arthur Dobb "Non serviam" (Pergamon Press).
Alfred Testa "Nowa kosmogonia" (Tekst przemówienia, wygłoszonego przez profesora Alfreda Testę podczas uroczystości wręczenia mu nagrody Nobla, wyjęty z tomu pamiątkowego "From Einsteinian to the Testan Universe", publikujemy za zgodą wydawcy. J. Wiley and Sons).
[Cz. 2.] Wielkość urojona: Wstęp - Cezary Strzybisz "Nekrobie".
Wstęp - Reginald Gulliver "Eruntyka".
Wstęp - Juan Rambellais "Historia literatury bitycznej".
Wstęp. Wstęp do II wydania - Ekstelopedia Vestranda w 44 magnetomach. Profertynka. Vestranda Ekstelopedia - Arkusz próbny.
Golem XIV: Przedmowa. Wstęp. Pouczenie. Wykład inauguracyjny Golema.